This has been, hands down, the best glider I have ever owned or flown!  I've never had so many amazing, memorable experiences in such a short span of time as I have since getting this wing.  It's been a wild ride!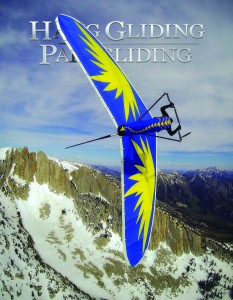 But, like all good rides, they must come to an end.  I'm rehabbing from a shoulder reconstruction, and won't by flying for quite a while still (possibly not until the Spring).  And when I do start flying again, I'll ease into things on my Falcon for a good while first.
SO- not that there's ever really a good time to part with a great wing- but I don't imagine there will ever be a more "logical" time than right now.
"Sundancer" T2C 144, serial # 40410
Sail manufacture date 4/8/2011
Sail is UVPT White (not the cool clear stuff, but excellent visibility to others)
Includes all the T2C standard issue goodness: Carbon aft LE's, carbon sprogs, carbon-kevlar LE inserts, carbon speed bar (LOVE!) and 12mm battens.
Currently has the "World Team" carbon DT's (slightly narrower profile than even the Slipstream legs for slightly more performance at speed).  If you'd prefer aluminum Slipstream legs I can do that and take $100 off.
Sail has no more than 200 hours on it, with lots of life left in it.  It's always been super babied, and the UV-stabilized Mylars are lasting as long as Dacron these days- with the added benefit of 0-stretch.  It still performs outstanding.
All general maintenance is up-to-date; Side wires and tip wands were recently replaced.
Original and one-of-a-kind (except for my matching Falcon4) sail colors look great up close and from afar.  Photographs well and gets lots of positive attention everywhere I go 🙂
$5800.
Glider is located in Ellenville, NY and is available for test flight to serious buyers.
I am willing to pack and ship (no charge to pack, buyer pays shipping).
If you are interested or have questions I can be reached using the 'Contact' link above.
*I will not sell this glider to a new or unqualified pilot.  If you're not a H4 or higher rated pilot, and I don't know you, please ask an instructor or mentor to endorse this transaction*